Guest Book Review by author Tash McAdam
June 19, 2015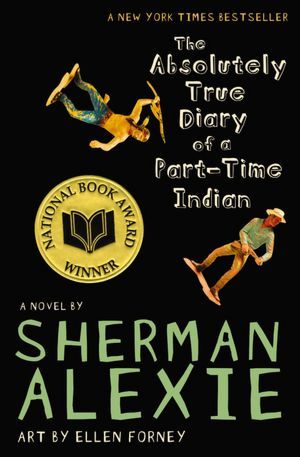 Five Stars. 
I moved to Canada almost two years ago, and since then I have been trying to educate myself around the history of North America. The Absolutely True Diary of a Part-Time Indian came highly recommended, and offered a somewhat unique insight into what it's like for Native People to this day. I have to say, this book broke my heart. I knew I was going to be sad, that it was going to be an emotional roller coaster, but I had no idea how brutal it would feel. The narrative voice was perfect, very individual, but with strong personality traits always shining through that made Arnold one of the most accessible characters I've ever encountered. I felt him, felt his pain and felt his triumphs (sadly, few and far between) Because the book is told in first-person, you get to grips immediately, on a very personal level, with the situation Arnold Spirit Jr faces. A talented cartoonist, generally smart guy, and one of the few children on his Reservation (A Spokane Indian Reservation in Washington)  who hasn't 'given up', Arnold makes the extremely hard decision to go to an all-white publich high school, off reservation. He's judged harshly by his friends and family, and at the school faces some difficulties due to his background and poverty. The novel deals with a lot of really difficult themes, but is definitely something that younger readers would be able to understand and enjoy. Although it's a bit 'controversial' in certain ways (and has been banned from a few high schools because of this) it never felt gratuitous or like something I'd be uncomfortable having my younger students read. Interspersed with the narrative is really cutting social commentary, as well as a lot of background about the history of violence and prejudice that has, sadly, coloured the lives of Native Peoples.
There are a lot of incredibly poignant scenes within the novel that do a great job driving home the absolute poverty Junior grew up in. From his father shooting his dog to avoid medical bills, to the day he realizes his text book is the exact same one that his mother studied from. Not the same-but-new. The actual book, with her name in it.  A scene that stayed with me months after reading this book for the first time is when Arnold asks his father 'Who has the most hope?' and his father answers 'White people', which is part of the motivation for Arnold to leave the reservation and pursue his education in a different environment. While this is initially seen as traitorous in the extreme, and aggression at this decision is played out through bullying and even a dramatic basketball game freezeout between the two schools, eventually we are allowed to experience some resolution and the book does have… if not a happy, then definitely a hopeful ending.
All in all, I thought this was a wonderful, though upsetting read, and I highly recommend giving it a shot!
Reviewed  by Author Tash McAdam
Author of Slam
Hello Lovlies!
If any of you are interested in doing a guest review post on my blog, please leave a comment below!
Or you can email me at brittneysbooknook.com!
I welcome authors, fellow bloggers and book lovers to do a guest post with me!
Thanks!