New Releases!
June 16, 2015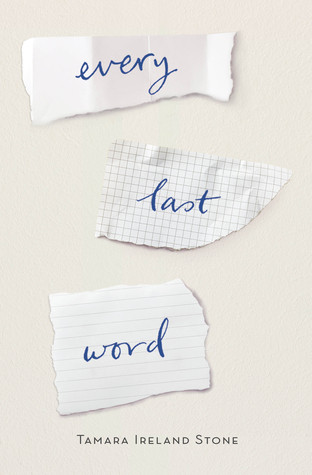 Every Last Word
f you could read my mind, you wouldn't be smiling.
Samantha McAllister looks just like the rest of the popular girls in her junior class. But hidden beneath the straightened hair and expertly applied makeup is a secret that her friends would never understand: Sam has Purely-Obsessional OCD and is consumed by a stream of dark thoughts and worries that she can't turn off.
Second-guessing every move, thought, and word makes daily life a struggle, and it doesn't help that her lifelong friends will turn toxic at the first sign of a wrong outfit, wrong lunch, or wrong crush. Yet Sam knows she'd be truly crazy to leave the protection of the most popular girls in school. So when Sam meets Caroline, she has to keep her new friend with a refreshing sense of humor and no style a secret, right up there with Sam's weekly visits to her psychiatrist.
Caroline introduces Sam to Poet's Corner, a hidden room and a tight-knit group of misfits who have been ignored by the school at large. Sam is drawn to them immediately, especially a guitar-playing guy with a talent for verse, and starts to discover a whole new side of herself. Slowly, she begins to feel more "normal" than she ever has as part of the popular crowd . . . until she finds a new reason to question her sanity and all she holds dear.
The Night We Said Yes
A fun, romantic read, perfect for fans of Sarah Dessen and Susane Colasanti!
Before Matt, Ella had a plan. Get over a no-good ex-boyfriend. Graduate from high school without any more distractions. Move away from Orlando, Florida, where she's lived her entire life.
But Matt—the cute, shy, bespectacled bass player who just moved to town—was never part of that plan.
And neither was attending a party that was crashed by the cops just minutes after they arrived. Or spending an entire night saying "yes" to every crazy, fun thing they could think of.
Then Matt abruptly left town, and he broke not only Ella's heart but those of their best friends, too. So when he shows up a year later with a plan of his own—to relive the night that brought them together—Ella isn't sure whether Matt's worth a second chance. Or if re-creating the past can help them create a different future.
In alternating then and now chapters, debut author Lauren Gibaldi crafts a charming, romantic story of first loves, lifelong friendships, uncovered secrets, and, ultimately, finding out how to be brave.
After Hours
Scandals and hook-ups abound in a summertime restaurant drama where four teens are all willing to do whatever it takes to make it through the workday…and hopefully to win the money in the after-hours dare-based game of Tips.
Isa, Xavi, Peter, and Finn know that a job at the high-end Waterside Café isn't just about waiting tables. It's about the gossip, the hook-ups, the after-hours parties, and, most of all, it's about Tips.
Tips—the high-stakes game based on dares. Whoever completes the most dares wins the collected money. A sum that could change a wasted summer into a Summer to Remember.
Isa is the new girl with an embarrassing secret, and as long as she stays on top of her game, she sees no reason why anyone could ever find out.
Xavi will do anything for the money…absolutely anything.
Peter, Xavi's stepbrother, has been in love with her for years, and he thinks the game is the perfect time to confess his feelings.
Finn is in the game just for the thrill. He has enough tips coming in to keep him happy…even if those tips come with some conditions.
From seduction to stealing to threats, the dares are a complete free-for-all, and only the best can win.
Between the Notes
When Ivy Emerson's family loses their house—complete with her beloved piano—the fear of what's to come seizes her like a bad case of stage fright. Only this isn't one of her single, terrifying performances. It's her life.
And it isn't pretty.
Ivy is forced to move with her family out of their affluent neighborhood to Lakeside, also known as "the wrong side of the tracks." Hiding the truth from her friends—and the cute new guy in school, who may have secrets of his own—seems like a good idea at first. But when a bad boy next door threatens to ruin everything, Ivy's carefully crafted lies begin to unravel . . . and there is no way to stop them.
As things get to the breaking point, Ivy turns to her music, some unlikely new friends, and the trusting heart of her disabled little brother. She may be surprised that not everyone is who she thought they were . . . including herself.
Debut author Sharon Huss Roat crafts a charming and timely story of what happens when life as you know it flips completely upside down.