This weeks New Release!

Danger descends in the second book of The Internment Chronicles, from the New York Times bestselling author of The Chemical Garden trilogy.
After escaping Internment, Morgan and her fellow fugitives land on the ground to finally learn about the world beneath their floating island home.
The ground is a strange place where water falls from the sky as snow, and people watch moving pictures and visit speakeasies. A place where families can have as many children as they want, their dead are buried in vast gardens of bodies, and Internment is the feature of an amusement park.
It is also a land at war.
Everyone who fled Internment had their own reasons to escape their corrupt haven, but now they're caught under the watchful eye of another king who wants to dominate his world. They may have made it to the ground, but have they dragged Internment with them?

Wilhelmina has a hundred identities.
She is a princess. When the Indigo Kingdom conquered her homeland, Wilhelmina and other orphaned children of nobility were taken to Skyvale, the Indigo Kingdom's capital. Ten years later, they are the Ospreys, experts at stealth and theft. With them, Wilhelmina means to take back her throne.
She is a spy. Wil and her best friend, Melanie, infiltrate Skyvale Palace to study their foes. They assume the identities of nobles from a wraith-fallen kingdom, but enemies fill the palace, and Melanie's behavior grows suspicious. With Osprey missions becoming increasingly dangerous and their leader more unstable, Wil can't trust anyone.
She is a threat. Wraith is the toxic by-product of magic, and for a century using magic has been forbidden. Still the wraith pours across the continent, reshaping the land and animals into fresh horrors. Soon it will reach the Indigo Kingdom. Wilhelmina's magic might be the key to stopping the wraith, but if the vigilante Black Knife discovers Wil's magic, she will vanish like all the others
Jodi Meadows introduces a vivid new fantasy full of intrigue, romance, dangerous magic, and one girl's battle to reclaim her place in the world.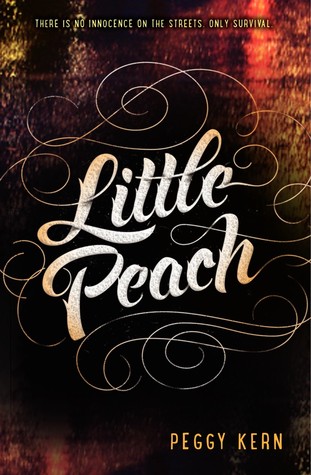 Little Peach
What do you do if you're in trouble?
When Michelle runs away from her drug-addicted mother, she has just enough money to make it to New York City, where she hopes to move in with a friend. But once she arrives at the bustling Port Authority, she is confronted with the terrifying truth: she is alone and out of options.
Then she meets Devon, a good-looking, well-dressed guy who emerges from the crowd armed with a kind smile, a place for her to stay, and eyes that seem to understand exactly how she feels.
But Devon is not what he seems to be, and soon Michelle finds herself engulfed in the world of child prostitution where he becomes her "Daddy" and she his "Little Peach." It is a world of impossible choices, where the line between love and abuse, captor and savior, is blurred beyond recognition.
This hauntingly vivid story illustrates the human spirit's indomitable search for home, and one girl's struggle to survive.
Read Between the Lines
Does anyone ever see us for who we really are? Jo Knowles's revelatory novel of interlocking stories peers behind the scrim as it follows nine teens and one teacher through a seemingly ordinary day.
Thanks to a bully in gym class, unpopular Nate suffers a broken finger—the middle one, splinted to flip off the world. It won't be the last time a middle finger is raised on this day. Dreamer Claire envisions herself sitting in an artsy café, filling a journal, but fate has other plans. One cheerleader dates a closeted basketball star; another questions just how, as a "big girl," she fits in. A group of boys scam drivers for beer money without remorse—or so it seems. Over the course of a single day, these voices and others speak loud and clear about the complex dance that is life in a small town. They resonate in a gritty and unflinching portrayal of a day like any other, with ordinary traumas, heartbreak, and revenge. But on any given day, the line where presentation and perception meet is a tenuous one, so hard to discern. Unless, of course, one looks a little closer—and reads between the lines.

Vanishing Girls
Dara and Nick used to be inseparable, but that was before the accident that left Dara's beautiful face scarred and the two sisters totally estranged. When Dara vanishes on her birthday, Nick thinks Dara is just playing around. But another girl, nine-year-old Madeline Snow, has vanished, too, and Nick becomes increasingly convinced that the two disappearances are linked. Now Nick has to find her sister, before it's too late.
In this edgy and compelling novel, Lauren Oliver creates a world of intrigue, loss, and suspicion as two sisters search to find themselves, and each other.