Hopeless By Colleen Hoover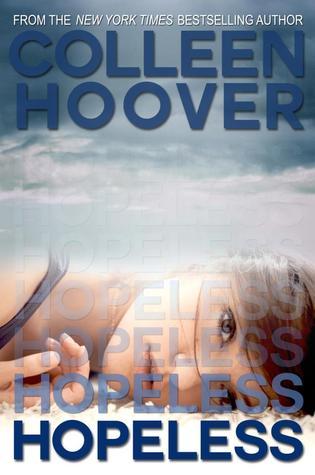 My rating: 4 of 5 stars
Sky's best friend is about to leave her for 6 months to study abroad right before she starts public school for the very first time. Right before school begins, she runs into a very attractive stranger she can't quite get out of her head. Despite Holder's bad reputation Sky can't stay away, but their relationship ends up uncovering things from her past she never expected.
I have to say that Colleen Hoover's strong point is her ability to develop such wonderful characters; they are normally relatable and hilarious, and Hopeless was no exception. Sky is a typical 17-year-old who sneaks boys into her room for late night kisses. However, she doesn't have any feelings for any of these guys. Actually she can't wait for them to leave, until she meets the town hottie, Holder, who she can't get enough of. I like Sky because she is tough; despite how mean her classmates are to her at school she could care less. She also doesn't let people lie to her, which is admirable. Holder is pretty intense in the beginning of the novel which sends up some warning signs. However, as the story continues it turns out he really isn't so bad after all. Actually, he is quite sweet.
The storyline of this book is definitely not even remotely what I was expecting. I thought it was going to be a normal NA romance, but I was so wrong. This book takes a major left turn about halfway through, and I had to stop reading for a moment in order to take a breath. The relationship between Holder and Sky develops over the course of several chapters. Honestly it's about average for a normal high school romance in my opinion. This book kept me intensely interested all the way through.
My favorite thing about Colleen Hoover besides her quirky characters is her sense of humor. I love the way it was sprinkled throughout this book (and her other books, too). The writing style in this book flows easily and the pacing is good. The ending may have been a little rushed, but it wasn't all that significant.
Overall, this book was witty, comical and surprising. I give Hopeless 4 out of 5 stars.