Tuesday's New Releases!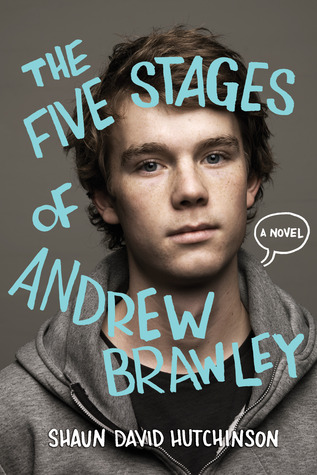 The Five Stages of Andrew Brawley
Andrew Brawley was supposed to die that night. His parents did, and so did his sister, but he survived.
Now he lives in the hospital. He serves food in the cafeteria, he hangs out with the nurses, and he sleeps in a forgotten supply closet. Drew blends in to near invisibility, hiding from his past, his guilt, and those who are trying to find him.
Then one night Rusty is wheeled into the ER, burned on half his body by hateful classmates. His agony calls out to Drew like a beacon, pulling them both together through all their pain and grief. In Rusty, Drew sees hope, happiness, and a future for both of them. A future outside the hospital, and away from their pasts.
But Drew knows that life is never that simple. Death roams the hospital, searching for Drew, and now Rusty. Drew lost his family, but he refuses to lose Rusty, too, so he's determined to make things right. He's determined to bargain, and to settle his debts once and for all.
But Death is not easily placated, and Drew's life will have to get worse before there is any chance for things to get better.
A partly graphic novel.
Tunnel Vision
Romance and action come crashing together when a teenage boy with incredible powers is brought to the attention of the government.
Jake Lukin just turned 18. He's decent at tennis and Halo, and waiting to hear on his app to Stanford. But he's also being followed by a creep with a gun, and there's a DARPA agent waiting in his bedroom. His secret is blown.
When Jake holds a personal object, like a pet rock or a ring, he has the ability to "tunnel" into the owner. He can sense where they are, like a human GPS, and can see, hear, and feel what they do. It's an ability the government would do anything to possess: a perfect surveillance unit who could locate fugitives, spies, or terrorists with a single touch.
Jake promised his dad he'd never tell anyone about his ability. But his dad died two years ago, and Jake slipped. If he doesn't agree to help the government, his mother and sister may be in danger. Suddenly he's juggling high school, tennis tryouts, flirting with Rachel Watkins, and work as a government asset, complete with 24-hour bodyguards.
Forced to lie to his friends and family, and then to choose whether to give up everything for their safety, Jake hopes the good he's doing—finding kidnap victims and hostages, and tracking down terrorists—is worth it. But he starts to suspect the good guys may not be so good after all. With Rachel's help, Jake has to try to escape both good guys and bad guys and find a way to live his own life instead of tunneling through others.
Twisted Fate
When Alyson meets Graham Copeland, the new boy next door, she instantly feels like he's a kindred spirit—shy and awkward like her, someone who has trouble making friends. It's impossible to resist having a crush on him.
As usual, her sister, Sydney, sees things differently. In Sydney's mind, Graham's odd personality and secretive past scream psychopath, not sweetheart. Her gut is telling her to stay away from him, and to protect a love-struck Alyson from her own naïveté. But despite her instincts, Sydney is surprised to realize that a part of her is drawn to Graham, too.
And the more Sydney gets to know him, the more she realizes just how right—and wrong—she is about everything.
Perfect for fans of Michelle Hodkin, and E. Lockhart's We Were Liars, Twisted Fate is an unputdownable novel, teeming with suspense.

A hot debut trilogy and a riveting story of survival, courage, and romance in a future where creating a master civilization is the only thing prized, no matter the method. After the Omega (the end of the end), 16 year old guys known as LTs discover their overseers are raising them not to be soldiers (lieutenants) as promised, but to be sold as bait because of their Less Than status and hunted for sport. They escape and join forces with a girls' camp, the Sisters, who have been imprisoned and experimented on for the "good of the Republic," by a government eager to use twins in their dark research. In their plight for freedom, these heroes must find the best in themselves to fight against the worst in their enemies