Tuesday Releases
November 4, 2014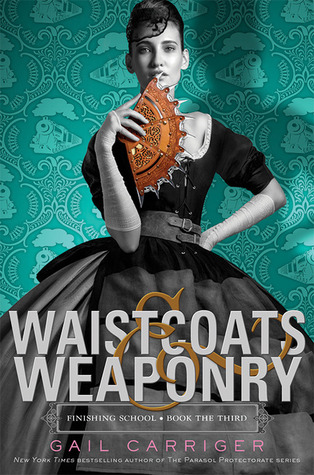 Waistcoats & Weaponry (Finishing School #3)by Gail Carriger
Class is back in session…
Sophronia continues her second year at finishing school in style–with a steel-bladed fan secreted in the folds of her ball gown, of course. Such a fashionable choice of weapon comes in handy when Sophronia, her best friend Dimity, sweet sootie Soap, and the charming Lord Felix Mersey stowaway on a train to return their classmate Sidheag to her werewolf pack in Scotland. No one suspected what–or who–they would find aboard that suspiciously empty train. Sophronia uncovers a plot that threatens to throw all of London into chaos and she must decide where her loyalties lie, once and for all.Gather your poison, steel tipped quill, and the rest of your school supplies and join Mademoiselle Geraldine's proper young killing machines in the third rousing installment in the New York Times bestselling Finishing School Series by steampunk author, Gail Carriger.
Mortal Heart (His Fair Assassin #3)by Robin LaFevers
Annith has watched her gifted sisters at the convent come and go, carrying out their dark dealings in the name of St. Mortain, patiently awaiting her own turn to serve Death. But her worst fears are realized when she discovers she is being groomed by the abbess as a Seeress, to be forever sequestered in the rock and stone womb of the convent. Feeling sorely betrayed, Annith decides to strike out on her own.
She has spent her whole life training to be an assassin. Just because the convent has changed its mind doesn't mean she has…
Empire of Shadows (Bhinian Empire #2)
by Miriam Forster
Cast out of her family three years ago, Mara turned to the only place that would take her—a school where students train to protect others. But Mara is stunned when guarding a noble girl in the Empire's capital turns out to be more dangerous than she could've imagined. More shocking still, she finds the boy she thought she had lost forever outside the gates of her new home.
Mara knew her life in the dizzying Imperial city would hold dangers. How could she have known that her heart, as well as her life, would be at stake?
Empire of Shadows will take readers on a spellbinding journey into the world Miriam Forster first introduced in City of a Thousand Dolls—a world with a divided society, deadly courtiers, heroic traitors, and deeply laid conspiracies.
Dangerous Deceptions (Palace of Spies #2)
by Sarah ZettelAs a lady in waiting in King George's London court, Peggy has survived a forced betrothal, royal scandals, and an attempt or two on her life. And now she has a new problem: her horrible fiancé has returned to claim her! To save her neck, or at least her hand in marriage, Peggy joins forces with her cousin Olivia and her sweetheart, Matthew. But if she doesn't play her cards right, her career as courtier and spy might come to an end at the bottom of the river Thames . . .
The Retribution of Mara Dyer
(Mara Dyer #3)by Michelle Hodkin
Mara Dyer wants to believe there's more to the lies she's been told.
There is.She doesn't stop to think about where her quest for the truth might lead.
She should.
She never had to imagine how far she would go for vengeance.
She will now.
Loyalties are betrayed, guilt and innocence tangle, and fate and chance collide in this shocking conclusion to Mara Dyer's story.
Retribution has arrived.
Forbidden
In the unforgiving Mesopotamian desert where Jayden's tribe lives, betrothal celebrations abound, and tonight it is Jayden's turn to be honored. But while this union with Horeb, the son of her tribe's leader, will bring a life of riches and restore her family's position within the tribe, it will come at the price of Jayden's heart.
Then a shadowy boy from the Southern Lands appears. Handsome and mysterious, Kadesh fills Jayden's heart with a passion she never knew possible. But with Horeb's increasingly violent threats haunting Jayden's every move, she knows she must find a way to escape—or die trying.
With a forbidden romance blossoming in her heart and her family's survival on the line, Jayden must embark on a deadly journey to save the ones she loves—and find a true love for herself.
Set against the brilliant backdrop of the sprawling desert, the story of Jayden and Kadesh will leave readers absolutely breathless as they defy the odds and risk it all to be together.