Today's New Young Adult Releases: 10-7-2014
October 7, 2014
"I am grateful for my father, who keeps me good and sweet. I am grateful for my mother, who keeps her own heart guarded and safe. I am grateful for my adviser, who keeps me protected. I am grateful for the Path, which keeps me pure. Ever after."
Princess Aislynn has long dreamed about attending her Introduction Ball, about dancing with the handsome suitors her adviser has chosen for her, about meeting her true love and starting her happily ever after.
When the night of the ball finally arrives and Nerine Academy is awash with roses and royalty, Aislynn wants nothing more than to dance the night away, dutifully following the Path that has been laid out for her. She does not intend to stray.
But try as she might, Aislynn has never quite managed to control the magic that burns within her-magic brought on by wicked, terrible desires that threaten the Path she has vowed to take.
After all, it is wrong to want what you do not need. Isn't it?
STRAY is the first in a collection of intertwined stories, all set in a world where magic is a curse that only women bear and society is dictated by a strict doctrine called The Path. A cross between The Handmaid's Tale and Wicked, with a dash of Grimm and Disney thrown in, this original fairy tale will be released October 7th, 2014 from Greenwillow Books/HarperCollins.
ONE GIRL WILL BRING AN EMPIRE TO ITS KNEES…
Before she can become the greatest empress in history, fifteen-year-old Sophie will have to survive her social-climbing mother's quest to put her on the throne of Russia—at any cost.
Imperial Court holds dangers like nothing Sophie has ever faced before. In the heart of St. Petersburg, surviving means navigating the political, romantic, and religious demands of the bitter Empress Elizabeth and her handsome, but sadistic nephew, Peter. Determined to save her impoverished family—and herself—Sophie vows to do whatever is necessary to thrive in her new surroundings. But an attempt on her life and an unexpected attraction threatens to derail her plans.
Alone in a new and dangerous world, learning who to trust and who to charm may mean the difference between becoming queen and being sent home in shame to marry her lecherous uncle. With traitors and murderers lurking around every corner, her very life hangs in the balance. Betrothed to one man but falling in love with another, Sophie will need to decide how much she's willing to sacrifice in order to become the empress she is destined to be.
In a battle for the soul of a nation, will love or destiny reign supreme?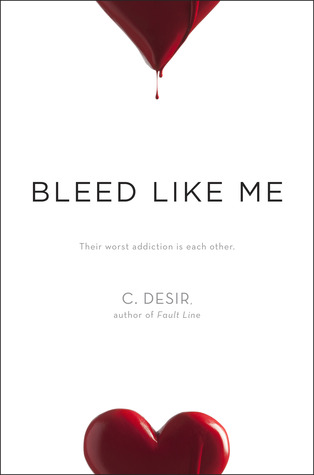 From the author of Fault Line comes an edgy and heartbreaking novel about two self-destructive teens in a Sid and Nancy-like romance full of passion, chaos, and dyed hair.
Seventeen-year-old Amelia Gannon (just "Gannon" to her friends) is invisible to almost everyone in her life. To her parents, to her teachers-even her best friend, who is more interested in bumming cigarettes than bonding. Some days the only way Gannon knows she is real is by carving bloody lines into the flesh of her stomach.
Then she meets Michael Brooks, and for the first time, she feels like she is being seen to the core of her being. Obnoxious, controlling, damaged, and addictive, he inserts himself into her life until all her scars are exposed. Each moment together is a passionate, painful relief.
But as the relationship deepens, Gannon starts to feel as if she's standing at the foot of a dam about to burst. She's given up everything and everyone in her life for him, but somehow nothing is enough for Brooks-until he poses the ultimate test.
Bleed Like Me is a piercing, intimate portrayal of the danger of a love so obsessive it becomes its own biggest threat.
-All of the synopses above were taken from Goodreads.com